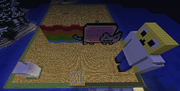 The
Showcase
is an area built by
tjcporter
to keep people's best builds.
Builds
| Build | Builder | Information |
| --- | --- | --- |
| Nyan Cat | TheEmpoleon65 | TheEmpoleon65 built Nyan Cat in Spawn, tjcporter copied it to Showcase as well. |
| Homer Simpson | staddongamer | staddongamer built Homer Simpson near Spawn, inspired by TheEmpoleon65 Statue. He asked tjcporter to move Homer to the Showcase. |
| Space Center | BubbagedonXL | BubbagedonXL entered the 14th March 2012 Build Challenge, he built a Space Center and won. tjcporter moved the Space Center to the Showcase. |
Ad blocker interference detected!
Wikia is a free-to-use site that makes money from advertising. We have a modified experience for viewers using ad blockers

Wikia is not accessible if you've made further modifications. Remove the custom ad blocker rule(s) and the page will load as expected.