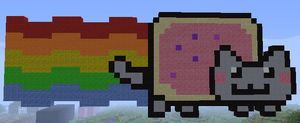 TheEmpoleon65's Nyan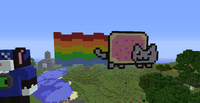 Cat
was built by
TheEmpoleon65
.
General Information
TheEmpoleon65's Nyan Cat was built on Monday, 12th March 2012 by TheEmpoleon65.
On Saturday, 17th March 2012, Nyan Cat was heavily griefed and burnt down, only the rainbow was untouched.
tjcporter
put Nyan Cat in a wool box for repairs, as, for unknown reasons, Nyan Cat's grief could not be rolledback.
On Tuesday, 3rd April 2012, TheEmpoleon65 repaired Nyan Cat.
Location
TheEmpoleon65's Nyan Cat is located in Spawn.
A copy of TheEmpoleon65's Nyan Cat is located in the Showcase.
Ad blocker interference detected!
Wikia is a free-to-use site that makes money from advertising. We have a modified experience for viewers using ad blockers

Wikia is not accessible if you've made further modifications. Remove the custom ad blocker rule(s) and the page will load as expected.